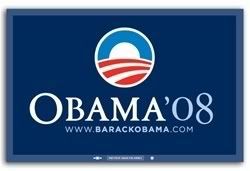 I'd really like to know.
I don't want to hear about Bill Ayers. I don't want to hear about Obama's lack of experience, either.
Honestly, it's been done. Both arguments are easy enough to refute.
Give me specifics. Policy. Character. Don't give me the crap about McCain being a POW. We all know it, we all really revere him for it, but it's been done. Let's find something else to point at, if we can.
I'd also like to know if you're voting FOR McCain or against Obama? Or are you voting for a 3rd party candidate (and why) or none at all?
I just don't get it. The more I hear from Obama, the more I don't get why people don't like him. Forget about the Liberal thing! I mean, damn!
Listen
to what he's saying!
I was incredibly impressed with him when Rachel Maddow interviewed him. This is an excerpt from their discussion last night:
"MADDOW: Well, yes, actually. I mean, other Democrats, you will hear them talk about the GOP as the party that's been wrong on all the big stuff. Creating Social Security, civil rights, the War in Iraq. But, you don't really do that. Do you think there is a stark difference between the parties?
"OBAMA: Well, I do think there's a difference between the parties, but here's my belief. That I'm talking to voters. And I think they're a lot of Republican voters out there, self-identified, who actually think that what the Bush administration has done, has been damaging to the country.
"And, what I'm interested in, is how do we build a working majority for change? And if I start off with the premise that it's only self-identified Democrats who I'm speaking to, then I'm not going to get to where we need to go. If I can describe it as not a blanket indictment of the Republican Party, but instead describe it as the Republican Party having been kidnapped by a incompetent, highly ideological subset of the Republican Party, then that means I can still reach out to a whole bunch of Republican moderates who I think are hungry for change, as well."
You can read the rest of the transcript and view the interview
here
Fellow LDS especially: how can you watch a McCain rally, a McCain campaign ad, or just listen to the man and Palin speak - all of the hate and the snarling and the pointing of fingers...
And then listen to Barack who refuses to sink as low as McCain and Palin; who, when his supporters "booed" after the mention of McCain said "Hey, don't boo. Vote."
Work with me on a semi-decent analogy for a moment. The starkness of atmosphere between the two campaigns reminds me of attending Conference in SLC seven years ago. On one side you had people with their hate-filled signs damning waiting Priesthood to hell while the Priesthood decided to respond by singing "I am a Child of God."
Stark difference.
Obama is classy. He's intelligent. He's courageous. He isn't quick to anger or accusation. He respects people.
He's human and has faults. I don't agree with or love everything, but nobody is ideal.
I just don't understand why anyone would want McCain in office. All he's doing is spreading fear and allowing hatred to blossom. He has said very little about what he intends to do. Sure, we know about his health care plan, the one that is dismal, at best. Who can live on $2500 ind/$5000 family annually on health care?
Are you kidding me? You'd HAVE to get your own private insurance to supplement, and then what? If you have a pre-existing condition, you're screwed. If you make no money, you're screwed.
Yeah, I have a hang up on the preexisting condition thing. It's...beyond me.
And besides that, he's screaming about Obama having to raise taxes
when he admitted he'll have to raise them, too
- for his health plan. The one that sucks.
McCain can't seem to talk as much about himself as he seems to want to talk about Obama. It reminds me of the church I used to attend where the pastor would start praying and suddenly start talking to the devil.
It just doesn't make sense.
He's drowning. He's flailing. And the only supporters I see are either the blind ones or the ones so full of racism and hate (I've heard "dirty Arab!"). I hate to think that perhaps some of my "brothers and sisters" would vote for this man just because he's Republican.
He's not what we need. Maybe eight years ago McCain was a "maverick" (take a drink), but he's a puppet now.
McCain instills no sense of pride within me. He doesn't seem sure of himself. Colin Powell said it all (and I read today that Ronald Reagan's Chief of Staff endorsed Obama today. OUCH!).
I don't respect McCain. He won't set his supporters straight, not until it gets so bad he has to. While the moment where he corrected the older woman who spat "Arab" was refreshing, he could have done better. "Arab" isn't a bad word. He could've said "He's not an 'Arab' but even if he was, so?"
Then
he could have continued with "He's a good, decent man who I happen to disagree with."
Haven't we learned? Japanese internment camps? Don't we remember?
And then Joe the freaking Plumber (take another drink. Two.), McCain's "blue collar mascot" who is getting a record and book deal. And has a publicist. The guy he allows to talk policy with supporters. The one who is agreeing with those who feel a vote for Obama is a vote for the death of Israel (see previous post). He has no control over his campaign. NONE.
Yeah.
Please. Don't vote McCain.
Obama '08.